The Swedish Nest is working with the theme of territory/space and the negotiation of land use between birds and humans, with a focus on the city in Göteborg/Frihamnen and on the rural/coastal perspective in Koster islands. The Nest has started out with orienting guided walks with invited artists, scientists and local practitioners in Göteborg and Koster islands in summer 2021.
In Göteborg the focus is the former industrial harbour, Frihamnen, where a new residential area is being built. The starting point is the question of how a new district can be developed with a bird's eye perspective. How can we talk about, and with, birds about their needs in the city and how can an acceptance be created for humans to make habitats that also benefit other species? In september 2022, an Artist in residence period curated by Ulrika Jansson in Frihamnen will result in a series of performative walks for an interactive public with the aim to improve the understanding of the place and the situation of the birds. Christoph Matt, communication designer and Pernilla Ljungkvist, performance artist, and other practitioners will be invited to develop methods for the audience to get into a deeper connection to the space and and the birds.
In Koster Islands the artist collective Gylleboverket, aka Etta Säfve and Jona Elfdahl, will work with the rural amd coastal perspective of birds. In Koster Islands the Nest is linked to the permaculture farm and public meeting place Kosters trädgårdar that is a farm based on permaculture, a way of farming that uses less land for human food production, leaving more space for wildlife. The video installation of Gylleboverket are working with is about setting oneself aside as a human, to make room for the elusive, for the wild and the repressed. In late summer 2021 Gylleboverket carried out an Artist in residence period at Koster islands. Their art work will be developed during 2022.
The artists working in the Swedish Nest are Etta Säfve and Jona Elfdahl/Gylleboverket at Koster islands, Pernilla Ljungkvist, Christoph Matt and Ulrika Jansson in Göteborg.
The Nest is curated by Ulrika Jansson.
"How can we talk about, and with, birds about their needs in the city and how can an acceptance be created for humans and decision makers to create habitats that also benefit other species?"
---
Participants in the Swedish Nest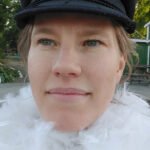 Ulrika Jansson (SE)
Artist/Curator
Ulrika Jansson is a Swedish artist, educator and curator based in Göteborg. In her site-specific practice she inquires how we, by engaging with stories, history, values, materials and ecology at specific locations, can gain an insight into interconnections between other creatures, people, places and times.

www.ulrikajansson.com
Her public art works often engage with and accommodate birds, bats and solitary bees. She engages in and initiates interdisciplinary collaborative art projects exploring socio-ecological relationships, such as in Cultural Adaptations, a Creative Europe project led by Creative Carbon Scotland 2019-2021. She has taught and lectured at institutions including Konstfack, Uniarts Helsinki Academy of Fine Arts and Stockholm Culture Council.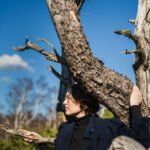 Pernilla Ljungkvist (SE)
Artist: Performance, Sound, Participatory Processes
Ljungkvist's work is conceptual with performance, text, sound and participatory processes as the main material, along with influences from various mind-expanding practises butoh, meditation and yoga. Her artistic practise moves in the borderland between social experiments, pseudo science and often examines existential issues based on personal stories.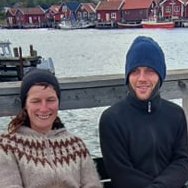 Gylleboverket: Etta Säfve & Jona Elfdahl (SE)
Performance, video & installation artists
Gylleboverket's investigations take shape as ritual being, performance, text, sound & video. In The Conference of the Birds, their work is based on questions about place and space, what space we as humans take and what we leave to others. The work is based on deep ecology, where the human being is deeply rooted in and part of the complex web of symbiosis and relationships that we call nature.
We have asked ourselves how we humans have been able to separate ourselves from and push nature out of our lives. And how we have thereby driven predation on the world and displaced other species.
Gylleboverket works in the project with a series of cinematic rituals to leave space for nature on the Koster Islands together with the local population. To set oneself aside to make room for the elusive, for the wild and the repressed.
With a number of residents at Koster, we have, among other things, moved backwards over the pebble ridges of the Nordkoster island. With our work, we have looked for a gap in our presence, an out-of-body emptiness that broadens the space for the world.
Gylleboverket is both an artist group and a platform for contemporary performing arts, art, film and culture based in an old industrial building in the countryside on Österlen in Skåne. Gylleboverket is run by the artists Jona Elfdahl and Etta Säfve.
As an artist group, they work with performance, installations, video works, sound, rites and social sculptures. They also work actively with permaculture – sustainable systems for the earth and humans, including forest gardens, sustainable cultivation techniques and social projects often in collaboration with other artists.
They work site-specifically and cross-border with built-up worlds, often of natural materials, myths, rites and stage installations Through the artistic process, the potential of the poetic to raise contemporary issues is explored. Gylleboverket's work process is exploratory, longer processes where thematic issues are intertwined. Collaborations, public meetings, analysis of the world around us and themes such as human isolation, normality, our relationship to the world around us and each other are examined in visual and poetic works.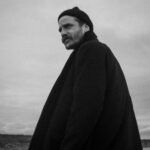 Christoph Matt (AUT)
Communication designer
Christoph Matt is an art director, communication designer, and illustrator born in the mountains and shaped by the Austrian Alps ever since. Christoph is the founder of the Studio Matt, a base camp for environmentally and socially conscious design and ideas currently set up in Gothenburg, Sweden. Inspired by adventures, explorations, and translations in the great outdoors and its vast ecosystems. Keeping a wary eye on the blue planet while working with humans and nature in various parts of the world. Constantly facing emerging issues with rock-solid rucksack principles, more-than-human focus, progressive design practices, and embracing a positive failure culture.

christophmatt.com
instagram.com/christophmatt
---
(This event in Göteborg is in Swedish only) 30/9 kl 13-16.30 – SEMINARIUM Norges hus, Skånegatan 16, Göteborg…