Chorus sinensis is a multidisciplinary project carried out in the contiguous territories of cormorants and humans living in the Bothnian Sea. The collaboration comprises an audiovisual choral work that will be shown as an exhibition and/or live performance. The premiere of the work will take place in the spring of 2022 at the Pori Art Museum, Finland.
Cormorants are an example of a social controversy that is often met with seethe without understanding the true extent of the issue. The project brings the ecopolitical debate raised by cormorants to be reviewed by the general public in the context of art and culture. We hope the work will bring new insights that are currently undefined without denouncing or applauding anyone. The work arises within the view of the beholder.
The work, conceived and curated by Ulla Taipale, combines videos, photographs and recordings by artist Jan Eerala with the composition for the choir by the composer and sound artist Lau Nau. The working group also includes Karoliina Lummaa, a literary scholar specializing in bird literature, Merja Markkula, a biologist and artist in the role of costume designer, as well as the 8-member Poseidon Choir: Kristina Bakić, Eeva Bergroth, Anna Jussilainen, Tuija Kuoppamäki, Aleksi Pihkanen, Sami Siitojoki, Teemu Suuntamaa, Susanne Ådahl and Iina Ukkonen. We are closely linked to Finnish cormorant researchers and members of the National Cormorant Working Group.
In August 2021, the choir and the filming group went to the outer archipelago of Luvia in the Bothnian Sea to photograph the choir's landing on a rocky island called Pohjankalliot, the habitat of cormorants and other seabirds. In October 2021, the choir was recorded in the studio, and in early 2022, the work will be ready for the first exhibition.
Chorus sinensis has been supported by the Nordic Culture Point, Nordic Culture Fund, Finnish Art Council, Niilo Helander Foundation, Samuel Huber Art Foundation and Pori Art Museum.
Curator for this Nest is Ulla Taipale
The whole black ragged being that kills the pleasing greenery and affects the fish – this is how a cormorant can be described. Black bird; white feces; black and white image of a bird. The blackness of a cormorant is dirty evil black, its skill as a fisherman is catastrophic greed, its life in the colony is polluting and destructive. This is what it looks like when you look at a bird and its nature from a particular angle, looking for signs of harm and disorder. Are other stories and images of cormorants possible? Is this bird worthy of a human song? Could there be fairytales about a bird that never sang? A bird whose life bothers some? What would be the story of a cormorant, the fairytale that could be told tomorrow?

Karoliina Lummaa, Great Cormorant – Worth a Song, 2021
Trailer for The Chorus sinensis exhibition's world premiere that takes place at Pori Art Museum from 17 June to 25 September 2022.
---
Participants in Chorus sinensis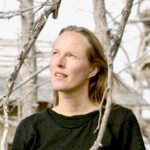 Ulla Taipale (Fi)
Curator
Ulla Taipale is Finnish curator, artist, and researcher, who has vast experience in creating and curating multidisciplinary projects combining arts and culture with natural sciences and natural phenomena. Her work is developed in collaboration with people and institutions from arts and sciences, internationally.

Laura Naukkarinen (Fi)
Composer / Artist
Laura Naukkarinen is a Finnish composer and performer who works with analogue synthesizers, acoustic sounds and field recordings. Her work comprises a range of solo albums under the moniker Lau Nau, scores for films and performing arts, multi channel sound installations and workshops.

Lau Nau

Jan Erala (Fi)
Artist / Photographer
Jan Eerala, born in 1948, working and living in town Pori in Western Finland, is a self taught visual artist operating with video, sound and photography. His lifelong production mirrors the relationship between nature and humans, often with a sense of rustic humor.
www.eerala.com

Merja Markkula (Fi)
BIOLOGIST / ARTIST
Merja Markkula has always been eager to become absorbed in new challenges. She first studied biology, agriculture, and experimental embryology. As a scientist she worked in several universities studying reproduction. Twenty years ago she left science and devoted to art, using mainly, but not only, textile materials. Chorus sinensis costumes are designed by her.
Karoliina Lummaa (FI)
Postdoctoral Researcher
Karoliina Lummaa is a postdoctoral researcher specialised in literary studies and environmental humanities.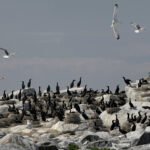 Great Cormorant (Phalacrocorax carbo sinensis)
Seabird
We cormorants are a bird species living in the most parts of the planet´s marine areas and other waterways. We like living in big colonies together with folks of our kind. Sometimes other sea birds live together or near to our colonies, and we support each other's lives. In Finland we mostly occupy outer and rocky sea islands where no one else like living at. We enjoy the open skies and fresh sea air and eat mostly small fish such as perches and roaches which we catch by diving.
Human people seem to avoid our company and make noisy efforts to keep us even further away from their settlements. Many years ago, we were driven off from Finnish coast and decided to try a comeback in 1996. Luckily our species was declared protected with some European-wide regulations and thus we could prosper and procreate again at the beautiful Baltic Sea areas.
We don´t sing like many other birds but we paint our nesting island in bright white that mirrors the sunlight making our living hoods easily recognizable. During the last years the sea gulls and white-tailed eagles started hunting our offspring and we suffered unbearable losses. Though attack is not inherent to our species, we must built strategies to better protect the new generations in the future.


---
The Chorus sinensis exhibition's world premiere takes place at Pori Art Museum from 17 June to 25 September 2022. This is…
A new nesting settlement of Finnish Great Cormorants is found in front of the Port of Rauma since…
Chorus sinensis working group gathered for the first intensive "nesting" session to the Ouraluoto island, which is part of…